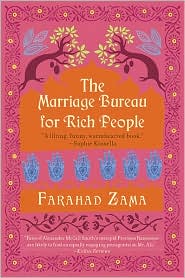 What's a man to do when he retires? When his puttering around the house starts to drive his wife crazy, Mr. Ali comes up with the perfect plan. He starts
The Marriage Bureau for Rich People.
In India, a country where arranged marriages are still traditional for an overwhelming majority, author
Farahad
Zama
has found the perfect setting for his story. The criteria for picking a bride or groom can be extensive, so it's no wonder that families turn to Mr. Ali and his trusty assistant,
Aruna
for help.
The following factors are generally considered in Indian marriages to search for compatibility:
Values and personal expectations: should match
Age and height: girl should generally be younger and shorter
Looks: should be acceptable to the other
Religion: should be same, preferably same sect
Mother tongue, caste: should be preferably same
Diet (veg/non-veg/alcohol/smoking): may differ only if acceptable to the other
Education: comparable educational levels or the boy should be more educated than the girl
Profession: the profession should be acceptable to the other
Financial: The boy's current and future financial situation should be acceptable to the girl.
Astrological signs/attributes: should be compatible, if the two families believe in it.
From the attractive divorcee disowned by her family for choosing her career over a husband to the lonely valve salesman that can't seem to find a bride, each person that walks through the door of the marriage bureau has a story to tell in this hilarious tale.
What did you like about this book?
I loved the fact that in between the laughter, the author weaves in background information about Indian customs and castes. It makes for a much richer reading experience, especially for readers unfamiliar with the culture.
What did you dislike about this book?
There were a few sections that moved slowly, but it did nothing to take away from the overall story.
What could the author do to improve this book?
No improvements needed. I'd love to see a series based on these characters.
304pp
Published June 2009
Theme:
We Belong Together
by Dianne Reeves