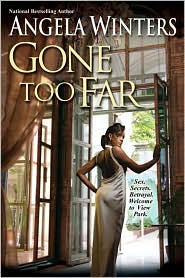 The Chases of
View Park
are back. When last we visited them in
A Price to Pay
Carter, the eldest son, had been dumped by his one true love and the mother of his child, Avery. The other son, Michael, had finally given his wife Kimberly the divorce she wanted. Leigh had sworn off all future suitors after a Hollywood romance gone bad. And bad girl Haley was still wreaking havoc.
Avery has rejected Carter for the last time. Just when they were so close to finally being together, Avery's husband was injured in an accident that left him paralyzed. Avery and Carter share a child together, but their dream of being a happy family will never happen as long as Avery's husband is depending on her.
Kimberly has dreamed of bringing the Chase empire down for as long as she can remember. But now that Michael has granted her divorce, she's ready to move on with her twins. When one of the boys becomes sick, Michael rejoins his family as the head and starts on the path to becoming the man Kimberly has always needed him to be.
Family philanthropist and friend to the needy, Dr. Leigh Chase has decidedly taken a break from men. After her last romance gone bad, the last thing she needs is the distraction of some man. Lobbying Senator Max Cody, about a new health bill would be a lot easier if she weren't attracted to him.
Whether she's hanging out with drug smugglers or disrupting family dinner, Haley Chase is a force to be reckoned with. The youngest of the Chase children, she's a certified brat. The last time her parents sent her overseas as punishment, she ended up in Australia. She's returned and just so happened to bring a husband back.
What did you like about this book?
This whole series is like a written version of
Dynasty
. I LIVED for Dynasty back in the 80s and this definitely does not disappoint.
What didn't you like about this book?
Earlier books in the series really showcased the parents. This time they were almost secondary characters.
What could the author do to improve this book?
Give us more of Steven and Janet and get someone to finance a mini series! Think
Generations
but with better story lines.
336pp
Published June 2010
Theme:
Make Yours A Happy Home
by Gladys Knight & the Pips