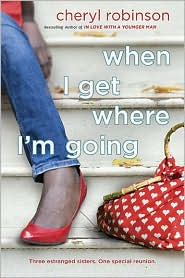 Alicia Day is a struggling actress originally from Detroit, now living in Hollywood. When she headed west with her best friend, Aubrey, both were determined to become the next big thing. So far Aubrey has made it big, but the only big things about Alicia are the fibroid tumors she keeps ignoring.
Hope Teesdale lost her second husband in a boating accident. At twenty-seven she's too young to be the bitter, widow that she's become. She's locked into her small corner of the world that consists solely of work and her daughter, Havana.
At only twenty, Heaven Jetter has lived entirely too much. As a child she grew up knowing that her father had killed her mother. This alone should have been enough to keep her from abusive men and the mean streets of Detroit, but it hasn't. She's a born party girl and even though she knows that her actions hurt those closest to her, she can't stop.
Heaven and Hope grow up as sisters, but it's not until a letter from their imprisoned father comes to Heaven that she learns that they have an older sister, Alicia. Alicia is thrown off by the brash, in your face young lady that reaches out to her long distance. A trip home solidifies their relationship, but trying to create a happy family complete with Hope is going to be a lot more difficult than either Heaven or Alicia imagined.
What did you like about this book?
Each of the sisters is a mess and the author doesn't try to "prettify" their situations. Each is dealing with realistic issues and I fully appreciated the author exploring them.
What didn't you like about this book?
The story is told in third person narrative for the most part and I really would have preferred first person, especially since each character is given their own chapters to tell their stories.
What could be done to improve this book?
It's so minor that I feel silly even typing it, but I hated the cover model's cankles. Yes, I said cankles.
How do I know that her calves and ankles are the same size, thus producing cankles? I don't. It just looks like it to me. Could be the cheap red shoes or the fact that I hate seeing heels like that worn with jean, I don't know. I just hate the look.
448pp
Published September 2010
Disclaimer: A copy of this book was sent to me by the author.