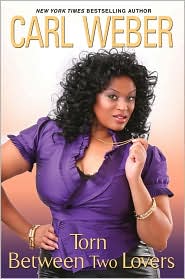 Fans of
Big Girls Do Cry
and
Something on the Side
will be happy to know that members of the infamous Big Girls Book Club are back. When last we left them Egypt finally got rid of her conniving sister, Isis, and Loraine had reunited with her husband, Leon, after her best friend Jerome tried to tear them apart. With
Torn Between Two Lovers
, Weber turns his attention towards Loraine.
Loraine and Leon survived Jerome's efforts to tear them apart, but something still isn't right between them in the bedroom. Loraine has tried to be patient, but it's been a six year struggle and his "early arrival" was one of the many reasons why she was so willing to believe Leon was cheating on her before.
Leon wants his marriage to work desperately and will stop at nothing to please his wife. The last time he was hypnotized by his therapist, he was surprised to find that he had repressed memories of physical beatings by his uncle as a young child. Though that revelation was startling, it still hasn't helped him figure out why he can no longer please his wife in the bedroom.
Michael has been in love with Loraine since he was a young boy watching her hang out with his older sister. When Loraine's marriage fell apart the first time, he swooped in to pick up the pieces. Now that she's back with Leon, Michael can't accept that she no longer wants her. He'll do anything to win her back, even if it borders on stalking.
Jerome's desire to see Loraine with a better man led him to set Leon up in
Big Girls Do Cry
. He thought by making it look like Leon was cheating, Loraine would open her eyes and move on to someone else. Unfortunately that plan backfired and Jerome lost his best friend forever. He's experienced a handful of disastrous relationships himself, but when he has a chance to rekindle a romance with Ron, a handsome basketball player, he's willing to cut ties with all of his other loves, including his secret lover, Big Poppa. If only his annoying stalker would stop screwing things up for him.
What did you like about this book?
This book starts off at a fast pace and doesn't stop until the ending. I thought I knew exactly what was going on and who the players were, but I was shocked and surprised to find that I really didn't. I love that it wasn't predictable.
What didn't you like about this book?
It was shorter than the typical Carl Weber book.
What could the author do to improve this book?
Though it was shorter than usual, there is really nothing I can think of that would make it better.
208pp
Published September 2010
Disclaimer: A copy of this book was provided by the publicist.
Theme:
You, Me & He
by Mtume