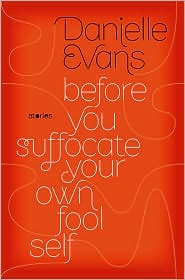 Frequent visitors to the blog know that I'm a big fan of well written short stories. Danielle Evans has hit the ball out of the park with
Before You Suffocate Your Own Fool Self.
From start to finish, there are no bad stories in this book.
The first short,
Virgins
, immerses you in the world of fifteen year old Erica and her friends Jasmine and Michael. It's written in such a way that you immediately remember what it was like to be their age and in a rush to grow up.
Snakes
tells the story of a young woman on the road to success who confronts her painful past and the summer she spent with her grandmother.
While it would have been easier for the author to write strictly from the female point of view, in
Someone Ought to Tell Her There's Nowhere to Go
, she tackles the story of a young male soldier returning from war. His re-entrance into the world he left isn't easy and leads him to make questionable, yet seemingly harmless, decisions.
My favorite of all the shorts is
Robert E. Lee is Dead.
If you've ever been the good girl, the smart girl, the nerdy girl and wished you could gain entry into the popular crowd, this story will resonate with you. Crystal and Gina are best friends, but while Crystal is smart as a whip, school is just a place to see and be seen for Gina. When it comes to popularity, no one is more popular than Gina. A chance to make herself popular among the athletes and cheerleaders arises and Crystal rises to the occasion. Her place in their world is shaky and can be snatched any time Gina says so.
What did you like about this book?
I absolutely loved the variety in stories and in characters. There are eight stories in total and each is completely different, yet just as good as the rest.
What didn't you like about this book?
I honestly can't think of a thing.
What could the author do to improve this book?
Not a thing.
240pp
Published September 2010
Theme:
It's My Life
by Bon Jovi
*Update*
Tayari Jones is giving away a copy of
Before You Suffocate
over on her blog. Please visit her
blog
for a chance to win!