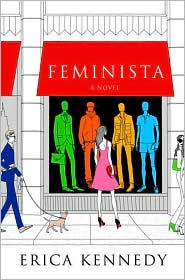 I can't tell you how many times I glanced at this book on the shelves of the library and kept right on walking. Everything about the cover screamed typical chick lit. I had no use for it. I only wanted to read books that would improve my world and impress me. Meh, so I'm slow sometimes.
Feminista
was great!
Sydney Zamora bounced around from job to job until a temping gig landed her a permanent position as a writer at
Cachet
. Along with that position came a nice, fat paycheck and all she had to do was write a few articles a month about celebrities. Easy, peasy, right?
Sydney has a reputation for discarding people from her life like yesterday's newspaper. Friends that got married? Gone. Having a baby? It's been nice knowing you. Fiercely competitive and an eternal feminist, she doesn't suffer fools and that includes the men she dates. When her sister tries to hook her up with Mitzi Berman, THE matchmaker, Syd fights her every step of the way.
Maximillion Harvey is an heir to one of the biggest department stores in the country. He's also a slacker. While his sister is content to run their empire, he'd much rather slide through life having fun. He's left a trail of brokenhearted women in his wake and sees no reason to change that. Mitzi would love to see him shackled to one of the women in her stable, but he has no intention of falling in line with her program.
Ok, I know what you're thinking. Typical romance, right? Nope. This is a hilariously funny take on what you think you know about fiercely independent women and the wealthy men that woo them.
What did you like about the book?
Sydney was an absolute mess. Instead of being Pollyanna Perfect, Erica King makes her very relatable.
There was just the right touch of drama and comedy sprinkled throughout to make this a page turner.
What didn't you like about the book?
The cover doesn't do it justice. From my initial glances I made assumptions that kept me, and perhaps others like me, from picking it up. Nothing about the cover tells you that the lead character isn't scrawny white chick, but is actual a person of color.
What could the author do to improve this book?
I know that it's not necessarily within her power to determine the outcome of the cover art, but it would really go a long way to make it more eye catching.
368pp
Published September 2009
Theme:
Independent Women
by Destiny's Child