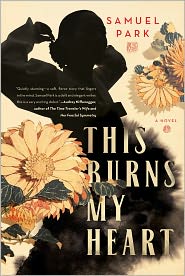 Easily one of my favorite reads this year,
This Burns My Heart
is the moving story of Soo-Ja. As a young lady in 1960 South Korea, she longed to move to Seoul and become a diplomat. When her wealthy father forbids her to join the Foreign State Department, she plots, at her mother's suggestion, to marry an easily pliable man who will let her have her way. But when you try to run game on someone, there's always a good chance that game is being run on you. And while Soo-Ja thinks she's using Min, she finds that she really is not the master of her fate, as she thought.
Why are we asked to make the most important decisions of our lives when we are so young, and so prone to mistakes?
So caught up in her dreams of escaping her small town of Daegu and becoming a diplomat, Soo-Ja misses out on the warning signs that would have stopped her from making such a grave mistake. Like a weight around her neck, Soo-Ja is forced to carry the decision she makes as an early 20something with her for years. Bound by duty to her family and tradition, Soo-Ja endures the deceit of her husband's family and disrespect of her own child. Chance encounters with an old friend with whom she shares a special bond only make the burdens harder to bear.
"Tchamara. What is the word that comes closest to it? To stand it, to bear it, to grit your teeth and not cry? To hold on, to wait until the worst is over? There is no other word for it, no way to translate it. It is not a word. It is a way to console yourself. He is not just telling her to stand the pain, but giving her comfort, the power to do so. Tchamara is an incantation, and if she listens to its sound, she believes that she can do it, that she will push through this sadness. And if she is strong about it, she'll be rewarded in the end. It is a way of saying, I know, I feel it, too. This burns my heart, too."
The pain, the sadness, the longing of Soo-Ja all come through in the words of Samuel Park. While this is a love story between a man and a woman, it's just as much a love story of a mother for her child. Through it all, Soo-Ja finds her spirit down, but never broken. I can guarantee you that you'll find yourself rooting for her happiness just as much as I was.
What did you like about this book?
Not only was it an easy read, it was a beautiful read. Park managed to weave in the student revolutions of 1960 into the story line, providing the reader with a historical aspect. Readers unfamiliar with Korean traditions and society were also offered a glimpse into the changes within South Korea from 1960 through the mid 70s.
What didn't you like about this book?
I can't think of a thing.
What could the author do to improve this book?
Not a thing.
320pp
Published July 2011
Theme: How Can You Mend a Broken Heart by Al Green