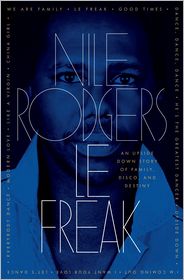 Even if you don't know his name, and I can't imagine you don't, but if you don't, you know Nile Rodgers' music. A writer, musician and producer, you can almost bet that at any given moment, a radio station some place on earth is playing a Nile Rodgers' song. We'll get into the songs in a just a minute, but for now, let's talk about Nile himself.
Born to a 13 year old mother, Nile's upbringing was anything but conventional. I would go so far as to say that the phrase, "sex, drugs and rock & roll" accurately describes his youth. A few years later his mother would go on to marry, not Nile's biological father, but Bobby, a Jewish salesman that wasn't much older than her. As Beverly and Bobby experimented more with drugs, their surroundings changed, so it wasn't uncommon for Nile and his brothers to live in Greenwich Village one day and Alphabet City or Hell's Kitchen the next.
As his mother tried to get herself together, Nile went to live with his grandmother and began an endless stream of flights back and forth from California to New York as his mother summoned him and sent him away. The one bright light in all of this chaos was his discovery of a love for music. It almost seemed like as soon as he felt he was old enough to handle life on his own, he made a break from the yo-yo lifestyle he'd been leading. Thank goodness he did.
Starting with the Big Apple Band, Rodgers would partner with bassist Bernard Edwards and go on to compose, write, produce, perform or play on some of the biggest hits of the last 40 years. As Chic, Rodgers and Edwards just wanted to make good music. Neither was concerned with being the front man, which made them the perfect house musicians for artists like Luther Vandross and Ashford & Simpson. Their production and writing skills brought us Sister Sledge's
We Are Family
and
He's the Greatest Dancer
. I still bump Diana Ross'
Upside Down
and
I'm Coming Out
. And though Rodgers and Edwards split in the 80s, Rodgers went on to work on albums for Madonna
(
the complete
Like A Virgin
album), David Bowie (
Let's Dance)
, Duran Duran
(The Reflex)
, Bob Dylan, Eric Clapton, Michael Jackson and Prince, to name a few.
What did you like about this book?
I learned a lot about Rodgers. I guess I'd never really given him much thought prior to receiving this book, but he really has written the soundtrack of my life. He's lead quite an interesting life and has overcome what would be insurmountable circumstances for others.
What didn't you like about this book?
Off the top of my head, I can't think of anything.
What could the author do to improve this book?
I went into this expecting to get a lot more gossip or back stories of Rodgers' friends. I guess because they were his friends, he didn't really give up as much as I expected him to.
336pp
Published: Oct. 18, 2011
Theme: Dance, Dance, Dance by Chic