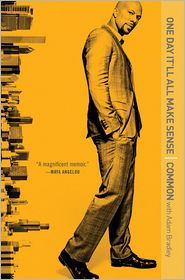 A lot of rappers write memoirs and while I've had no interest in reading most of them, I couldn't resist giving Common's
One Day It'll All Make Sense
a read. He's one of my favorite rappers because unlike some that talk about how many cars they have or how many women they've slept with, he generally comes with a message. I'll forgive him for the foolishness that was
Electric Circus
(I'm just going to blame that one on Erykah Badu) and
Universal Mind Control
(and I'll blame this one on Serena Williams).
I'm not sure why, but I fully expected Common to just break down some of his lyrics, tell us about his fancy lifestyle and throw in an occasional motivational message. Instead, each chapter starts with a letter from him to someone important in his life, alive or dead. Through these letters, the reader learns what the person he's writing to has meant to him and how they influenced his life. I especially enjoyed his letters to his parents and to his daughter.
Another thing he does, that not many men are willing to do, is be open about his relationships and the roles he's played in them. Let's go back to my reference to
Electric Circus
and Ms. Badu. Why do I blame her for that horrible CD? How do you go from
Like Water for Chocolate
to that?
Other than
Come Close,
which was written about Erykah, it was the epitome of whack. In talking about his relationship with her, it's apparent that from day one, Erykah was in control and their relationship was all about her.
"Erykah was my first grown-up love. Loving her was the first time I had been so caught up in a relationship that everything else seemed muffled and dimmed. ...I loved Erykah so hard that I didn't have any love left for myself."
While his family and friends watched, Common changed the way he lived, ate, communicated, etc. It almost sounded like one of the Ms. Cleo commercials of the nineties, "I think someone put roots on me!" Though they started as friends, Erykah decided when they became a couple and also when the relationship ended, calling him while he was on tour to tell him it was over, while her next man sat in the room and listened in on the conversation. Who does that??? When I say Ms. Badu is stronger than battery acid?!?! I just wanted to cradle Common to my chest as a I read that...purely for unselfish reasons, of course. And um, have a word with "E."
Common goes on to talk about his other relationships with Taraji "my eyes stay bloodshot" P. Henson and Serena Williams, but it's obvious that Ms. Badu had the most lasting effect on him and some of his biggest life lessons were learned as a result of their time together. The message that stood out most to me was,
"No longer am I going to dim my light for anyone or anything. I 'm going to let it shine. This is what God gave me, so I'm going to wear this. I'm going to wear my greatness."
And he wears it well...as long as we're not talking about his acting, but that's another story for another time.
What did you like about this book?
I loved the openness and honesty of Common. Though he's usually portrayed as walking the straight and narrow, his stories of youth quickly dispel that myth. It's as if he's most interested in giving people the complete picture of himself rather than the manufactured image that most artists have.
What didn't you like about this book?
I enjoyed most of the letters, but some of them were quite lengthy and didn't keep my attention.
What could the author do to improve this book?
I would suggest shortening and/or removing some of the letters.
320pp
Published September 2011
Disclosure:
Copy provided by the publisher, opinions posted are my own.
Theme: The People by Common