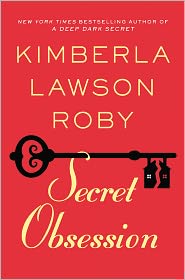 Well she finally took a break from the ridiculously long story line of Reverend Curtis Black, but I can't say that Kimberla Lawson Roby did readers any favor with her detour into the crazy world of Paige Donahue. Paige has always lived in the shadow of her sister, Camille. From the time they were kids until now, Paige has wanted whatever Camille has, including her husband, and she'll stop at nothing to get him. Thank goodness this was a short read because the naivete of Camille and her husband, Pierce, combined with the far fetched schemes of Paige were hard to read due to the constant eye rolling on my part.
With at least 15 books under her belt, Roby still has not learned to fully develop her characters and give them plausible story lines. Yes, Paige is bat shit crazy, how do you give the reasoning behind it less than a page and then wrap up the entire story with a nice neat bow a few pages later without fully exploring the transformation from bat shit crazy to regular old crazy?
Paige and Camille's mother admitted a family secret that had a devastating effect on their lives and Roby didn't feel that it needed more than a paragraph? The people that Paige and Camille became was solely based on their childhood and the role that this secret played in it, but a paragraph will suffice? Oh, ok. I guess the author thought readers didn't require more or maybe she was only obligated to write a 200 page book and this one had hit 192 so she figured I could use the other eight pages to write my own ending. Hell, I don't know.
What did you like about this book?
Twas short.
What didn't you like about this book?
Relleh b, relleh? (Ok, seriously, in order to understand my usage of "relleh" you'll need to listen to Jay-Z & Kanye West's HAM. Tis hilarious!)
What could the author do to improve this book?
Learn that character development is key.
192pp
Published September 2011
Theme: Crazy Love by Ne-Yo featuring Fabolous (and that tooth of his)