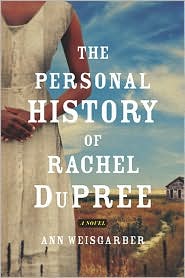 The book blogging community has been abuzz about this book for awhile, but it took some time for me to decide to read it. Even though I'm a fan of historical fiction and historical reality TV, like PBS'
Frontier House
, I wasn't sure that this story, set in The Badlands of South Dakota in the early 20th century, would be of interest to me. It's biggest selling points were that Viola Davis was working to option the rights to it and that it might be an interesting enough listen to keep my mother quiet on the five hour drive to take my daughter to college.
Rachel Reeves works as a cook in the boarding house of Mrs. DuPree, widow of the late Dr. DuPree and mother of Isaac, an army man. Before Isaac DuPree came home, Rachel believed that her days would be full of cooking for the boarders of the home. Isaac's stories about life in the army and his plans to stake a claim in the South Dakota Badlands fascinates both the boarders and Rachel.
Instantly smitten, Rachel dreams of marrying Isaac and starting life together. Mrs. DuPree will have no such thing and works feverishly to introduce Isaac to suitable upper class women. Isaac has no use for such soft women, but when the hardworking Rachel makes a deal with him that allows him to claim an additional 160 acres of land in her name in exchange for one year of marriage, he jumps at the chance. So begins their tale of life in the Badlands.
What did you like about this book?
It offered a story that hasn't really been told before. Although I was aware that there were African-American settlers, I can't recall reading any stories from their points of view. The author and narrator did an excellent job of bringing the harsh realities of life on the plains to life. Oh, and it kept my mother quiet for most of the trip!
What didn't you like about this book?
Isaac had an obvious disdain for Native Americans, so much so that at times I pondered ejecting the CD from my player. Though the possibility for his hatred was revealed eventually, I felt like the author really went overboard with her characterization of Native Americans as lazy and looking for handouts.
I also had a problem with Rachel's naivete as it related to Isaac. While he treated her as nothing more than a breeding ranch hand with little regard for her opinion, she followed him blindly repeatedly, at times to the detriment of their children. The characterization of Rachel as a physically and mentally strong woman seemed to be in direct conflict to the Rachel that kowtowed to Isaac.
What could the author do to improve this book?
The book was left with a bit of a cliffhanger. I don't need a sequel, but I would have liked a few follow up chapters just to wrap up the story line.
336pp
Listening time: 10 hours, 9 minutes
Published August 2010
Theme: Could've Fooled Me by Rachelle Ferrell