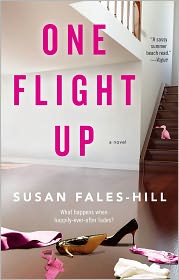 This is what
Sex and the City
would look like if they ever tried diversity, well diversity beyond Blair Underwood. Remember the season he played a sports doctor and hooked up with Miranda of all people??? Can we just take a moment to appreciate the chocolaty goodness that is Blair though? Can we?!?!?! Okay, I was having a moment there, but I'm back now.
So what was I saying? Oh yes.
One Flight Up
is a look at the lives of four friends in Manhattan. Graduates of the elite Sibley School for Girls, Esme, India, Abby and Monique seem to have it all, but each has secrets that they share with no one, not even their best friends.
Attorney India has enough on her plate trying to keep up with her mother's latest divorce attempt and her own whirlwind romance with French chef, Julien. So when the love of her life stumbles back into her world, she's forced to re-evaluate quite a few things.
Abby loves literature, but being married to a sculptor who's always on the verge of being discovered means someone has to support the family financially, so she runs her family's art gallery even though it's not her passion.
She's always played with fire, but her friends have no idea that Esme is dangerously close to getting burned. A spoiled woman of means, she treats Manhattan as her playground and the men in it as her toys.
Though she was their tormentor at Sibley, Monique has managed to work her way into the world of the trio of friends. She's still as brash and rude as she was at Sibley and being a doctor has only added arrogance to her list of characteristics.
Susan Fales-Hill has worked on several award winning shows from
The Cosby Show
and
Different World
to
Linc's.
A Manhattanite herself, with a true global flair, it would be great to see a mini-series or network series from Fales-Hill based on these characters.
What did you like about this book?
These women are fabulous! It's rare to see colorful chick lit that features not just one, but three women of color. Each of them is successful in her own right and boldly claims what is hers with no apologies.
What didn't you like about this book?
As fabulous as their lives were, some of the situations seemed a little unrealistic.
What could the author do to improve this book?
Make it a series please. I'm seeing Sofia Vergara as Esme!
368pp
Published July 2011
Purchase:
Amazon
|
B & N
|
Book Depository
|
IndieBound