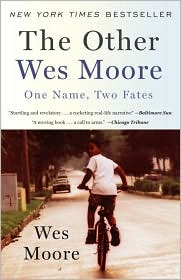 It was strictly a coincidence that I listened to
The Other Wes Moore
the same week I was reading
Patches of Grey
, but it turned out to be the perfect compliment to it. Both books dealt with young men of color coming of age and, though one was a memoir and the other was fictional, I found myself comparing the characters in both.
Wes Moore, the author, grew up in a single family home after the death of his father. However, the strain of raising children alone forced Wes' mother to move herself and the children in with her parents. He was fortunate in that he came from college-educated parents. He soon found himself in trouble at school and facing pressure from neighborhood kids to join them in compromising activities.
The other Wes Moore was born to a young mother that tried desperately to do right by her children. Already a teen when she had her first son, she had not made it to 20 before having Wes. Her oldest son belonged to the streets, but he recognized something special in Wes. Wes, however, was determined to make money for the family he started as a young teen father and soon became swept up into the streets. Eventually he would go on to serve time.
The author, Wes Moore, is a Rhodes Scholar; a former White House fellow and a veteran of the war in Afghanistan. The imprisoned Wes Moore will never see the outside world again. He's currently serving time for his role in the killing of a police officer during an armed robbery. How do two young men growing up under similar circumstances with the same name turn out so differently? I believe that a big part of it is having a strong presence of positive family and/or a village that believes in you. Wes, the author, had a mother and grandparents that were willing to sacrifice to put him on the right path. The other Wes really had no one once his brother and mother accepted, or turned a blind eye to, his activities.
How does this explain the brothers in
Patches of Grey
then? There has to be something internally that makes you believe that in spite of your circumstances, you can rise above them and do better. Tony and CJ grew up in the same home and were offered the same opportunities, yet Tony found it within himself to want better while CJ took the easy out of the streets. There is no epilogue in
Patches of Grey
, but I have to imagine that much like the author, Wes Moore, Tony goes on to bigger and greater things.
What did you like about this book?
It would have been easy for the author to just write his memoir and I wouldn't have blamed him. He's lead a very impressive life for someone so young. The fact that he took time to meet and get to know the other Wes Moore and tell his story as well is absolutely fascinating.
What didn't you like about this book?
I honestly can't think of a thing.
What could the author do to improve this book?
Not necessarily with this book, but I would love for him to write another book detailing his time as an aide to Condoleezza Rice and a Rhodes Scholar.
Published: January 2011
Listening time: 6 hours
Theme:
Boys to Men
by New Edition