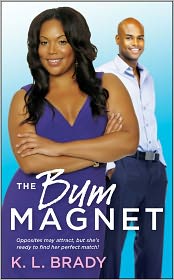 I often tease one of my Twitter pals about having a crazy magnet. And just like crazy people are attracted to her, bums seem to be attracted to Charisse Tyson. Reeling from the broke heart Marcus "the cheater" Matthews left her with, she's gone on a self-proclaimed man hiatus.
When the handsome Dwayne Gibson becomes a client, Charisse is determined to keep it professional. That's easier said than done and she finds herself falling for him. As their relationship progresses, Charisse reflects on her past failed relationships, and those are really the most entertaining parts of the book.
Charisse seems to have dated every kind of loser imaginable, so much so that you would think that her bum radar would go off sooner than later the older she got. Proving that just because one is older does not make them wiser, Charisse finds herself with not just one man on her doorstep, but quite a few. Has she learned enough on her self-improvement quest to figure out who's a bum and who's the real deal? And what about the college sweetheart
tapback
(hat tip to @onechele over at
Black 'n Bougie
) that won't go away?
What did you like about this book?
K.L. Brady has done a fine job of blending romance and comedy with a touch of mystery to create a perfectly balanced story.
What didn't you like about this book?
About halfway through I figured out one of the characters motives and wanted Charisse to figure it out as soon as I did. She was just a little more naive that I would have liked.
What could the author do to improve this book?
I honestly can't think of a thing.
368pp
Published March 2011
Theme: Who's Zoomin Who? by Aretha Franklin