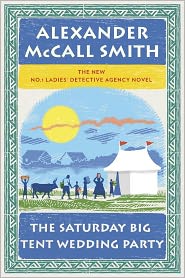 The characters you've come to know and love are back in the 12th book of
The No. 1 Ladies Detective Agency
series. Grace Makutsi is finally marrying her beloved Phuti Radiphuti. Charlie, the mechanic's apprentice, finds himself in a bit of a situation when his girlfriend announces she is pregnant with twins. And in between trying to figure out what is killing cows in Gaborone and what is really going on with Charlie, Mma Ramotswe keeps seeing the ghost of her late white van.
Alexander McCall Smith's books are known for being well written, well researched and easy reads. He lives up to all three of these characteristics time and time again with this series. I'm always happy to read the latest book in the series, but sad to know that it will be at least a year before I will have the opportunity to read the next.
What did you like about this book?
Mma Makutsi really gets a chance to play a leading role in this book. She's such a funny character that any time she's highlighted, it's sure to bring a laugh to the reader.
What didn't you like about the book?
As always, my complaint is that the book goes by entirely too fast.
What could the author do to improve the book?
Though nothing can be done to improve the book, I would love for HBO to speed up their process in bringing movies based on the series to the small screen as they mentioned last year. Am I the only person who would be okay with Jill Scott putting her music career on hold for a minute in order to get filming done? Just me? Oh, ok.
Published: March 2011
224pp
Theme:
We Must Be in Love
by Pure Soul