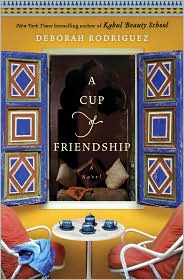 Centered around the lives of frequent visitors to the Kabul Coffee House,
A Cup of Friendship
offers a glimpse into life in modern day Afghanistan. I was hesitant to read it initially because I was worried that it would be another 'white person saves the natives' story, but surprisingly it wasn't.
Small town country girl Sunny came to Kabul with her on again/off again boyfriend, Tommy. While Tommy is out playing secret soldier for extended periods of time, Sunny is trying to turn a profit with the coffee house she's opened in Kabul. Working along side her are Halajan, a widow; Halajan's twenty year old son, Ahmet, the coffee house's guard; Bashir the cook; and the newly arrived Yazmina. Rounding out the cast of characters are Jack, a handsome American in Kabul as a consultant; Candace, the ex-wife of a U.S. diplomat; and Isabel, the fiercely loyal and indefatigable British journalist.
Through Isabel the reader learns of the atrocities that women in Afghanistan face under the Taliban regime and as laborers in opium fields. Isabel's journeys also offer a brief glimpse into Muslim and Jewish relations in Afghanistan. Candace's story focuses on growing terrorist cells. Halajan is in love with a childhood friend, but communication is forbidden without her son's consent. And Yazmina, a young widow, arrives in Kabul pregnant and afraid because a pregnant woman without a husband casts shame upon her family.
In this fast paced read, Rodriguez takes care to explore story lines that the average American reader may not have had exposure to before. I was completely hooked from the beginning to end and highly encourage anyone else that's seeking a better understanding of every day life in Afghanistan to give this a read.
What did you like about this book?
There were a lot of characters to keep track of. It could have been difficult to keep them straight and keep the reader interested in all of them, but Rodriguez seems to have tackled this with ease.
What didn't you like about this book?
While everyone else's story seemed to teach a specific aspect of life in Kabul, I felt like Sunny's story could have taken place anywhere. While the others were struggling to stay alive or live by the rules of their religion, Sunny's biggest problems seemed to be what man she'd end up with before the book ended.
What could the author do to improve this book?
Focus less on the American perspective (Sunny) and more on those native to Afghanistan.
304pp
Published: January 2011
Theme:
Ronnie Talk to Russia
by Prince