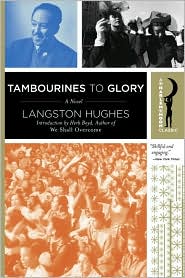 :::::whispering::::: This is my first Langston Hughes book. I'm so ashamed to admit that. Sure I've read his poem. Who doesn't know
Mother to Son
? But before now, I've never taken the time to read any of Hughes' other work, so when I saw an audio version of
Tambourines to Glory
on the shelf at the library, I took it as a sign that it was time.
Set in Harlem during the Korean War, this is the story of the good-natured Essie and her good time girl neighbor Laura. Both women are living on relief (what is now known as public aid/welfare/government assistance), but while Essie is saving her little bit of money to bring her daughter up from the south, Laura is using hers to drink and have fun. Scheming up ways to get more money, the women decide to start their own church, right on the street corners of Harlem.
While Essie approaches the venture with a pure heart and good intentions; Laura, whose knowledge of the Bible is extremely limited, is constantly thinking of ways to increase their weekly income, including bottling tap water and selling it as holy water and using the hymnal numbers to encourage parishioners to play the numbers (lottery). All is going well for the ladies until Laura's greed and jealousy put them both in jeopardy.
What did you like about the book?
The conversations between the Laura and Essie were priceless and very telling. Essie was more trusting of Laura than she should have been. I think deep down she knew that Laura had no loyalty to anyone but herself, but she was determined to find the good in her to her own detriment.
What didn't you like about the book?
Really? How does one criticize Langston Hughes?
What could the author do to improve this book?
The character of Birdie Lee was hilarious. I would have loved to see more of her.
Listening time: 4 hours, 17 minutes
Published 1956, made into a musical in 1958
Theme: Tambourines to Glory from the musical Tambourines to Glory