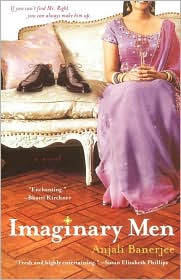 Who hasn't lied to keep their family happy? Everyone wants to live up to their parent's expectations in some way. A little lie couldn't possibly hurt anyone, but a big lie such as a fiance' could be detrimental.
San Francisco matchmaker Lina Ray has a talent for seeing a connection between people. It makes her an excellent matchmaker. Lina's family wishes she could find herself the perfect match. A family visit to India leaves Lina overwhelmed by the prospect of an arranged marriage to a Pee Wee Herman-like man and she finds herself creating an imaginary fiance' to give herself some breathing room.
Without thinking about it, Lina gives her "fiance'" the name of a breathtaking man she briefly met in India. When he turns up in her San Francisco matchmaking office asking her to find a wife for his younger brother, she finds herself drawn to him. Unfortunately for her, Raja is a prince and engaged to a princess back home. As Lina's own wedding date draws near, she's working feverishly to find someone to fill the shoes of her imaginary man.
What did you like about this book?
Lina was an absolutely delightful character. I honestly didn't want this book to end.
What didn't you like about this book?
At just 258 pages,
Imaginary Men
just wasn't long enough for me.
What could the author do to improve this book?
Send it to Bollywood. I would love to see this on the big or little screen.
358pp
Published September 2005
Purchase:
Amazon
|
B & N
|
Book Depository
|
IndieBound