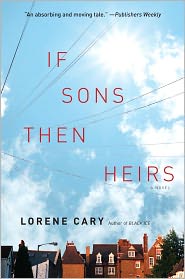 "In Christ you are not slaves, but sons, and if sons, then heirs."
Galatians 4:7
It's impossible to read the latest from Lorene Cary and not reflect on your family's legacy. Whether it be physical property or simply your family history, there are things passed down through the generations for which no monetary compensation will suffice.
If Sons, Then Heirs
touches on both of these.
It's the story of Alonzo Rayne, a man struggling to become a parent to his girlfriend's son, an especially difficult task because he was abandoned by his own mother. It's the story of Jewell Thompson, who abandoned not only her son, but her identity as a black woman, in a quest for a better life. And it's the story of Selma Needham, widow of the family patriarch, King, who has held on to the family's land, legacy and secrets in South Carolina while everyone else migrated North.
Cary manages to weave several messages into the story so skillfully, that you may not recognize all of them until well after you've finished the book. For example, how can one be successful in a relationship (as a partner or parent) when you've never seen one? Is there such a thing as too late when it comes to re-establishing a relationship with someone? Is walking away from your child ever justifiable? And can a family that's been scattered across the country come back together for one purpose and form a united front?
What did you like about this book?
Lacking a good example of what a stable family looks like, it's understandable that Rayne is hesitant to commit to his girlfriend, Lillie, and her son, Khalil. As Rayne grows more and more throughout the book, the relationship between Rayne and Khalil grows and it's such a wonderful thing to watch unfold.
What didn't you like about this book?
Nothing. So let me tell you what else I liked about it. I was absolutely fascinated with the concept of heir property. It's not uncommon for people "up north" to lay claim to family property in the south. Depending on how that land has been passed down, it's not as easy to sell that property as some may think. So
If Sons, Then Heirs
deals with the problem of what happens when one person wants to sell and has to get the approval of all the heirs. My grandmother had twelve children. I can't even begin to imagine how difficult it would be to wrangle all of her kids and their kids and their kids together. Now imagine if the land belonged to my great-grandmother. So not only would all of my grandmother's lineage have to come to an agreement, all of her siblings offspring would as well. Just thinking about it is a daunting task. But if you think of it as an opportunity to reunite your family and to connect with family members you never knew, it becomes an exciting prospect.
What can the author do to improve this book?
I can't think of a thing.
320pp
Published April 2011
Theme: Beach Chair by Jay-Z featuring Chris Martin