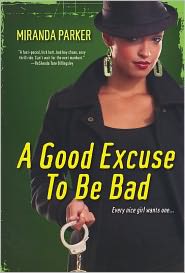 Angel Crawford is nothing like her twin sister, Ava. Older by just four minutes, Ava is poised and professional, the wife of one of Georgia's most prominent ministers. Angel, on the other hand, is a bounty hunter and also happens to be a single mother.
When Ava's minister husband is found murdered, with Ava close by, it's up to Angel to find out what happened to the brother-in-law she didn't care for and the sister she does. With assistance from her own minister, Justus Morgan, and her mother breathing down her back to get her baby out of jail, Angel finds herself under the gun, literally. She calls in favors and relives her own painful past in an effort to clear her sister's name and bring her back home to her children.
Though
A Good Excuse to be Bad
is not your typical colorful chick lit, there is the banter between Angel and her minister, Justus, that masks sexual attraction between the two. With Justus acting as her sidekick while she tries to solve the mystery, there is plenty of time for them to flirt, though it's often interrupted by life's situations or simply because it's inappropriate in light of what's happening around them.
In Angel Crawford, Miranda Parker has the makings of a character with potential longevity, but she should be careful to pick a genre and stick with it. At times this felt like a true mystery, in the vein of Valerie Wilson Wesley's Tamara Hayle character or Grace Edwards' Mali Anderson character. There were times though when it felt like there was a strong desire to make this Christian lit, and not just because the story involved ministers, their families and their parishioners. And, as I said earlier, the flirting and banter between Justus and Angel gives it a chick lit feel, though Angel is a much stronger character than the typical woman you might find in chick lit. Parker should be careful going forward to define which genre this series belongs in, otherwise it may get lost in the crowd.
What did you like about this book?
Angel and Ava's mother was a riot. She really reminded me of Jenifer Lewis, who seems to have played everyone's mother in black Hollywood at this point.
What didn't you like about this book?
At times it felt like there was too much going on. Everything leading up to the solving of the mystery was planned out, but the point where the mystery was solved seemed rushed. I'm still not sure that I understood exactly why what happened did.
What could the author do to improve this book?
Find a genre and stick with it. And balance the story out so that it flows consistently throughout.
320pp
Published July 2011 (pre-order!)
Theme:
I Got A Thing 4 Ya
by Lo-Key