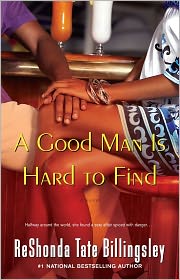 A noted Christian lit author, ReShonda Tate Billingsley takes the leap into the chick lit/mystery genres with
A Good Man is Hard to Find
. I've not read any of her Christian lit, that I can recall, so I can't say if the transition is a smooth one. What I can say is this was an easy read, but not necessarily a memorable one.
Ava Cole has always been known as a hard-hitting journalist. When the company she works for is bought out, she's offered a job as a writer at a tabloid. Reluctantly she accepts and finds herself in Aruba trying to get dirt on superstar India Wright, who's just days from getting married.
As Ava digs deeper into India's fiance's background, she finds quite a few interesting details that could derail India's marriage and put Ava's life at risk. A mystery interwoven with a love triangle,
A Good
Man is Hard to Find
certainly holds your attention as you read it, but you'd be hard pressed to remember what it is about a month after you read it.
What did you like about this book?
It was a quick and easy read.
What didn't you like about this book?
For some reason Billingsley felt the need to include a younger sister for the lead character. She added absolutely nothing to the story line and, at times, was more of a distraction than was needed.
What could the author do to improve this book?
There is potential to turn this character and her story into a series, but the author will need to dig deeper and flesh out the character. The reader never gets to go below the surface with the lead character and so, ultimately, there's not a level of caring about her that one would find with leads in other books.
Published: March 2011
272pp
Theme: If Your Girl Only Knew by Aaliyah