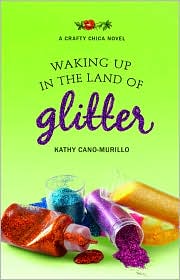 Star Esteban is a hot mess. From the very beginning I could tell reading about this chick was going to be fun and that I would love every minute of it. And I was right!
Twenty something Estrella "Star" Esteban works at her family business, La Pachanga, a combination restaurant and art gallery. As an only child, Star's every whim has been catered to by her hippie parents, so it's not unusual for her to start and stop projects without worrying about the repercussions. But when she goes overboard with her crazy antics, her father gives her an ultimatum: get yourself together or get out of our house.
Her best friend Ofi uses crafting to avoid dealing with real life. Her mother-in-law is practically raising her daughter and running her house while Ofi overspends at the local craft mart. She's sure that she'll make it big in crafting one day, though it would help if people could figure out what exactly it is she's making.
The ambitious Chloe Chavez is determined to get to the top. She's long admired another newscaster turned crafting celebrity. If she follows her path, she's sure to end up with endorsements and possibly a national news spot. The fact that she doesn't really care for crafting is just a minor detail.
With the assistance of her friends and a 14 year old boy wonder designer, Star sets off on a path to discover her true passion and get to know herself. Along the way, her friends begin their own journeys and find that they all have room to grow.
What did you like about this book?
So many times in books women are waiting (whether or not they know it) to be saved by a man. Star saves herself and I loved that! That's not to say that there is no romance involved, but it's not the determining factor in who she becomes.
The writing flows extremely well. I'm really glad that the author took the time to develop the secondary characters so well instead of leaving them in the background.
What didn't you like about this book?
I honestly can't think of a thing.
What could the author do to improve this book?
Find someone to make it into a movie. I could totally see this on Lifetime or HBO.
336pp
Published March 2010
Purchase:
Amazon
|
B & N
|
Book Depository
|
IndieBound