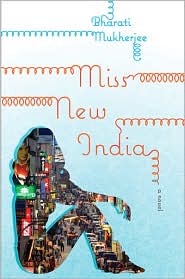 Nineteen year old Anjali Bose wants nothing more than to get out of the small town of Gauripur. Most women in her town are married by the time they reach her age, or at least their parents are working finding a suitor for them. Anjali's father is looking, but Anjali isn't most women.
Much like the small town girl moving to the big stories we read that are set in America,
Miss New India
is the story of one girl's quest to move beyond the circumstances that are presented to her through no fault of her own. Anjali is smart. She's managed to stave off her father's attempts to marry her off, but when a presentable suitor is found, she knows she has no other choice than to head out into the world in search of her own satisfaction.
What would satisfy a small town girl? Becoming a customer service representative at one of the many call centers in Bangalore. And becoming an Americanized, independent, savvier version of herself, representing a shift in Indian women from the set standards to the new Indian woman.
From the small town of Gauripur to the big city of Bangalore, the Silicon Valley of India, this young woman's journey from Anjali to Angie is absolutely fascinating. Author Bharati Mukherjee skillfully intertwines Angie's story line with historical background, offering readers both entertainment and a history lesson.
What did you like about this book?
I love to learn about other cultures and thoroughly enjoyed learning more about facets of Indian culture and history.
What didn't you like about this book?
Though other parts of the book seemed very cut and dry, I was left somewhat confused by the ending of the book.
I had to go back and re-read the last chapter and prologue to find the few sentences that confirmed what became of Angie.
What could the author do to improve this book?
Perhaps make the ending more clear.
336pp
Published May 2011
Disclosure:
Received ARC from publisher
Theme:
I Am Changing
from
Dreamgirls
by Jennifer Hudson