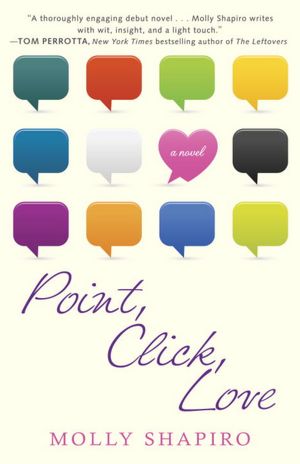 It's supposed to be fun, it's supposed to be sexy. I missed that memo, because it's neither. Don't get me wrong, it's not horribly bad, it's just not fun or sexy. I get that authors and publishers are on the hunt for the next
Sex and the City
. This so is not that.
Set in the Midwest, Kansas City to be exact,
Point, Click, Love
is the story of four unlikely friends whose ages range from early 30s to mid 40s. And before someone accuses me of being anti-Midwest, let me point out that I live in St. Louis and I've been to Kansas City, Missouri AND Kansas. There is nothing sexy about Kansas City, though the barbecue is to die for. No really, check out Gates BBQ the next time you're there.
Recently divorced Katie is a banker who wants to get back out on the scene. While she doesn't miss being married, she realizes that she does miss sex. Armed with a laptop and a mouse pad, she takes on Match.com, Craigslist and a local dating site in hopes of getting her groove back.
A high powered PR guru, Claudia can be a bitch. She knows it and her husband knows it, but he's okay with it so why should she worry? Steve has been out of work for a few years and Claudia is tired of carrying the load by herself. To add insult to injury, not only is he not looking for a job, he spends hours daily on Facebook talking to other women.
East coast transplant Annie moved to Kansas City to work for Sprint after completing her education at Yale and Wharton. You would think she'd be bored with life in the Midwest, but she's enjoying it. The realization that she wants a child sends her to the Internet on a search for the perfect sperm donor.
Maxine has a gorgeous doctor husband, the perfect kids and a burgeoning career as an artist. Things haven't been very spicy in the bedroom lately. Browsing stories of celebrity antics on the web do more than keep her entertained, it's her newest obsession.
While each woman's story is okay, there was nothing to really tie them together. The author has them meet at a book club occasionally or at a bar, but there's nothing here to make you truly believe that these women are friends. For example, all of the other women are or have been married and have children. Annie has no prospects and no kids. The author explains it by saying Annie prefers to have friends with kids. Um, why? She doesn't offer to babysit her friend's kids. She doesn't seem to be into kids at all until she decides she wants to have one. So why would she go out of her way to friend women with kids? Makes no sense.
It was just hard to figure out why any of their paths would have crossed. Kansas City isn't THAT small. If you're looking for a quick and easy read that doesn't make you think too hard, this is the book for you.
272pp
Published: December 2011
Theme: What About Your Friends by TLC