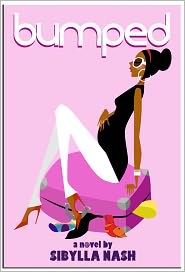 This book has been on my radar for a minute, but I was saving it for the read-a-thon. One of the things I've learned with read-a-thons is that it's best to keep your reading material short and lighthearted. That way you don't get weighed down with any one book for too long and you don't get bogged down with deep thoughts or heavy feelings about the subject matter.
With that thought in mind, I added
Bumped
by first time author Sibylla Nash to my must read list for the read-a-thon and I'm glad I did. I recently started the
Spying in High Heels
series by Gemma Halliday and
Bumped
reminded me of that series meets
Platinum
by Aliya S. King. So picture a quirky every day girl turned detective who just happens to be involved in the music scene and you've got Elle Nixon.
PR maven by day (and a lot of nights), Elle is at the top of her game. She loves her job and she's gearing up for a promotion. Her love life is going pretty well too, or at least it was before her boyfriend disappeared on her. Now pregnant, disgraced and jobless, Elle is having a heck of a time trying to make sense of it all.
What did you like about this book?
Nash blends just the right amount of fun and quirky with mystery to give a delightful read for lovers of chick lit.
What didn't you like about this book?
Off the top of my head, I can't think of a thing.
What could the author do to improve this book?
I'd be perfectly happy with a series of books about Elle. The chick lit world could definitely use a colorful chick like her.
214pp
Published August 2011
Theme: Crumblin' Down by John Mellencamp