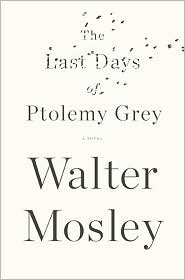 An old man sits patiently, lost in his own mind, waiting on someone who's never coming again.
The Last Days of Ptolemy Grey
is the story of a 91 year old man with failing memory that has been given a brief window of time to remember all of those things that he's forgotten in over nine decades of living.
Through conversations he holds in his head, the reader is introduced to Coydog, Ptolemy's childhood mentor. It is also through these conversations that we learn of Ptolemy's deceased wife and his relationship with his previous caretaker, Reggie.
Now that Reggie has passed, Ptolemy's relatives all seem to want money from him and suspect that he's senile enough to give it to them without realizing it. Robyn, a guest of Ptolemy's niece, enters the picture and seems to want nothing from Ptolemy other than his company. The fact that she's 18 and he's 91 is rarely a factor in their platonic relationship. Robyn is simply seeking someone to care for and Ptolemy can certainly use it.
With Robyn's assistance, and also to her dismay, Ptolemy begins taking medication that returns his memory completely. Ptolemy is determined to make the most of his time and it's Robyn's job to help him complete his list of goals before that time runs out.
What did you like about this book?
Walter Mosley has such a way with words that it's a pure delight to read them. Honestly, I could probably read his grocery list and be happy. In the hands of any other author the relationship between Ptolemy and Robyn would have seemed strange, even creepy. However, Mosley writes it in such a way that it seems perfectly natural.
What didn't you like about this book?
There is a lot of switching between present day and the past without any demarcation.
It got frustrating occasionally when trying to determine about whom or what the narrator was thinking.
What could be done to improve this book?
I would have liked to see an epilogue just to find out the outcome of Robyn's relationship with Ptolemy's family.
288pp
Published November 2010
Theme:
I Remember
by Dianne Reeves