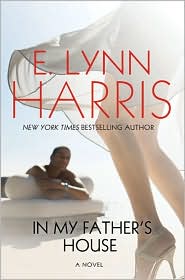 Written before his untimely passing last year,
In My Father's House
was to be the first in a series from E. Lynn Harris about Bentley L. Dean III. Warren, the man he left his fiancee' for, broke his heart when he refused to come out of the closet with him. Cut off from his wealthy family when he revealed that he was gay, Bentley left the cold streets of Detroit for the warmth of Miami.
Firmly established as the owner of the premiere modeling agency in South Beach, Bentley and his partner are struggling to pay the bills. Due to the recession, no one is using models the way they used to. When a mysterious stranger visits the office to secure male models for a private party, Bentley is immediately skeptical. A background check confirms that the man is legitimate and Bentley attends the party along with several of his models, only to find that the attendees are all men in search of discreet hookups with other men.
While that normally wouldn't bother Bentley, he wasn't running an escort service and he'd taken his young and impressionable mentee to the party. Said mentee gets swept up in a relationship with the well-known host of the party, who also happens to be Hollywood's biggest star as well as a father and husband.
So the remainder of the book is spent trying to convince Bentley's mentee to come back home to Miami and getting Bentley to reconnect with his estranged father. There's nothing new to see in this one. It's the usual E. Lynn Harris formula. Though it was a quick read, overall I was unimpressed.
What did you like about this book?
It was a quick and easy read.
What didn't you like about this book?
It was very predictable.
What could the author do to improve this book?
I'm not sure if there are plans to continue this story line with someone else writing them, but unless they can bring something new to it, they shouldn't bother.
304pp
Published June 2010
Theme:
My Petition
by Jill Scott (yes, I know it's written about the government, but parts of it seem so applicable to character situations within the book).